Dante er en lyd-netværksteknologi udviklet af Audinate. Dante-enheder på samme netværk kan automatisk detektere hinanden. Det gør det nemt at sætte et system sammen og mindsker risikoen for fejl.
Denne guide fokuserer på netværksdesign snarere end på de individuelle produkters specifikationer.
CL/QL Series Online Seminar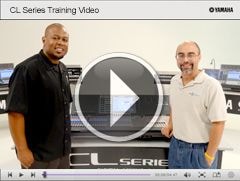 Experience our CL/QL series training seminar online!
The features and functions are explained by Leland Green and Jose Perez - top two of the most experienced trainers of Yamaha digital mixing consoles. You can follow the contents in order, or choose a paticular video focusing on a topic.
[Notes:] These videos were created using CL Series firmware V2.0 and QL Series firmware V1.0. The latest specifications are subject to change with future firmware update.
* The subtitles are available in English, Spanish, Russian (partly), Chinese, and Japanese. If your language does not appear, click the menu button at the bottom-right of player and choose it.
2. System Configuration - Basics
3. Console Operation - Basics
4. Console Operation - Advanced