Biography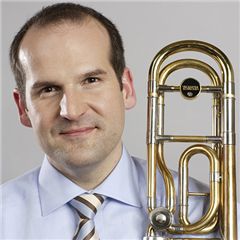 Ulrich Fladwurde was born in Albstadt-Ebingengeboren.
He received his first trombone lessons at the Burladingen School of Music at the age of 11.
After completing his "Jugend musiziert" competition, he began his studies at the Heidelberg / Mannheim College of Music and Performing Arts with Prof. Paul Schreckenberger in 1991.
He got his first job while studying at the Städtische Orchester Pforzheim.
From 1995 to 2007 he was a solo trombonist in the Gürzenich-Orchester Köln. Masterclasses and concert tours took him to other European countries, to Asia and America.
In addition, Ulrich Flad has been the first trombonist in the orchestra of the Bayreuth Festspiele since 1996.
At the winter semester 2007/08 he received an appointment as professor for trombone at the Musikhochschule Cologne.
Ulrich Flad is a Yamaha Performing Artist.