Biography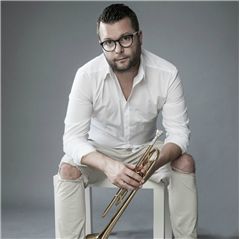 Tobias Mair was born on 16.07.1982 in Merano (South Tyrol / Italy).
He received his first musical lessons from his father at the age of eight, and continued his education in the music school Merano. Here he was awarded as a priest at "Prima La Musica" in the ensemble and as a soloist.
In 2000, he studied with Professor Otto Rabensteiner at the Conservatory in Bolzano. From 2001 to 2008 he continued his studies at the Conservatory in Innsbruck with Mag. Markus Ettlinger and Prof. Erich Rinner. A year later, he returned to Bolzano for his education, where he studied from 2009 to 2010 at the Conservatory of Marco Pierobon.
Masterclasses took him to Eidenberger Josef, Seeger Guido, Klingler Florian, Rainer Markus, Münchner Philharmoniker, Schuhwerk Klaus (HfM Basel / Frankfurt), Sommerhalder Max (HfM Detmold ), Bo Nilson (HfM Malmö), Höfs Mathias (HfM Hamburg / German Brass), Köller Uwe (HfM Graz / Essen German Brass).
During his studies, he regularly gathered orchestral experience, among others. at the Vienna Philharmonic (solo trumpet, 2004-2005), at the European Philharmonic (solo trumpet, 2005-2006) and at the Haydn Orchestra, where he was the winner of the internship program from 2007 onwards. For three years he was engaged as a permanent substitute, but also as a solo trumpeter. He also received additional insights from the Pomeriggi musicali Milano (solo trumpet, 2008) and as guest trumpeter at the Gustav Mahler Youth Orchestra (2010).
He has made many different experiences, including the Linz trumpet ensemble, the Innsbruck trumpet ensemble, Sinfonic Winds (soloist and lead trumpet), sweet Alps, South Tyrolean musicians, Hopfenmusig (Bandleader), brass quintet Esbrassivo, South Tyrolean wind ensemble, lead Trumpet in various ensembles. He also worked as a concertmaster at the Brass Bayreuth Festival under Bob Ross Brasstaculum and as a studio musician (Rekon) for ZDF, Rai, ORF, etc.