Tchiki duo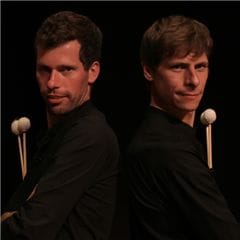 Founded in 2006 by Jacques Hostettler & Nicolas Suter, Tchiki duo is considered today as the world leading Marimba duo. Their artistic development, powered by their friendship, passion and sensitivity, brings them close to the greatest soloists, composers and pedagogues of the marimba, in particular Keiko Abe, Nebojsa J. Zivkovic, David Friedman, Peter Prommel and Gordon Stout. Their outstanding sound and musicality rose them up to the recognition of renowned artists as pianists, singers, violinists or stage directors, all pointing out an astonishing artistic achievement. With two similar instruments, Tchiki duo impresses and transcends the audience by sounding as One, offering a unique duo performance included in the expression of a true art connected with its time.
Since 2008, the duo performs widely in Europe and in Asia, playing as soloists with orchestra or as duo recitals, performing their own works or works dedicated to them. The recording of two CDs (2009/2012) stirred up their passion for marimba sound and artistic happenings, pushing them to build up a rich experience through numerous artistic collaborations with composers, opera singers, classical & jazz musicians, choreographers, painters and stage directors.
Tchiki duo is regularly touring in Europe for lectures and masterclasses in music universities (Amsterdam, Berlin, Wien, Stuttgart, St-Petersburg, ...). Since 2012, both Swiss musicians teach at the Haute Ecole de Musique de Lausanne with Stéphane Borel. Tchiki duo founded and leads the Keiko Abe Lausanne International Marimba Academy (KALIMA), taking place every two years since 2011, spreading Keiko Abe's philosophy and gathering talented young marimbists together with young marimba teachers, led by lecturers as theater stage director, piano and lyric art teachers.