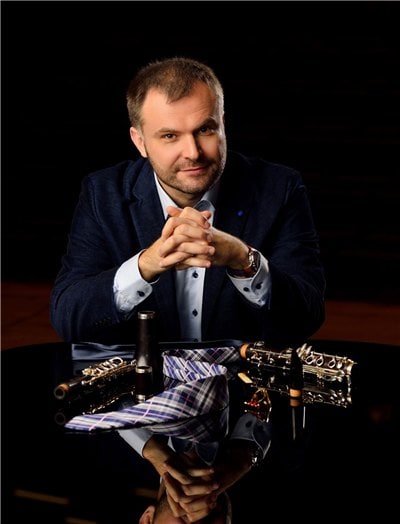 Jan Jakub Bokun is a Polish clarinetist and conductor. Graduated summa cum laude from Karol Lipiński Music Academy in Wrocław and obtained further postgraduate training with Guy Dangain at the Conservatoire National Supérieur de Musique de Paris.
He studied conducting at the University of Southern California in Los Angeles with Larry Livingston and John Barnett. Bokun was awarded a grant by the American Academy of Conducting in Aspen where he studied with David Zinman, Jorma Panula and David Robertson. In 2012, he obtained his post-doctoral from Karol Lipiński Academy of Music in Wrocław. He had attended master courses with eminent artists including Sergiu Celibidache, Michael Stern, Jerzy Salwarowski, Philippe Cuper, Guy Deplus, Walter Boeykens, Michael Collins, Béla Kovács, James Levine and Kurt Masur.
Jan Jakub Bokun was a winner of competitions in Wrocław, Włoszakowice, Białystok, Enschede and Mt. Pleasant. He received the Foundation for Polish Culture Award, and scholarships from the Minister of Culture and Art, the Jan Adolf Górecki Scholarship, and the French Government.
He has performed extensively in Europe, USA, United Arab Emirates, and Southeast Asia. He represented Poland at the World Clarinet Congress Clarinetfest (in Ostend, Stockholm, Tokyo, Lincoln and Assisi). In 1999, Krystian Zimerman invited him to perform with the Polish Festival Orchestra in Salle Pleyel in Paris, Concertgebouw in Amsterdam, and Carnegie Hall in New York and to record for the Deutsche Grammophon. As a soloist and conductor he has regularly performed with distinguished orchestras in Poland and the Czech Republic.
As a clarinetist and conductor he recorded 11 albums. His album, Duo Guitarinet, was nominated for the award Fryderyk 2000. His latest album, A la carte, was recorded with guitarist Jakub Kościuszko and released in 2015. J.J.Bokun also recorded for the Polish Radio and Television, the International Clarinet Association, the record company Koch Classics and Dux. In 2005, he founded his own record label JBRecords.
Jan Jakub Bokun is a highly sought-after teacher, who has conducted numerous courses and master classes at the Royal Conservatory in Brussels, in Sofia, Belgrade, Prague, Paris, Brno, Lubljana, Mexico, Beijing, Tokyo and Avila, Spain. He is currently in the faculty of the Karol Lipiński Academy of Music in Wrocław. Jan Jakub Bokun is the president of the Polish branch of the International Clarinet Association, originator and art director of the Clarimania festival, and founder and conductor of the chamber orchestra Inter>CAMERATA.
He plays Yamaha clarinet CSGIIIL and CSGAIIIL.