SNARE STANDS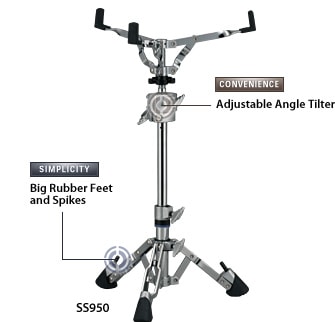 David Garibaldi

Tower of Power

"The Yamaha snare drum stand I use is the SS950. It's their best one yet, well made and is highly functional. I prefer hardware that is micro-adjustable. This design allows that in every way possible."

Will Champion

Coldplay

"Sturdy and versatile"

Adjustable Angle Tilter

The ball clamp tilter lets you position the head angle freely. Aligning the snare and stand vertically reduces energy loss so you can get more power from every stroke. The design also makes lower settings possible giving you more room for deep shell snare drums.

Big Rubber Feet and Spikes

Knock-type spikes that extend with a single touch, combined with large rubber feet keep the stand stable and secure.

SS740A Snare Drum Stand
SS950 Snare Drum Stand