Yamaha Absolute Hybrid Maple Drums with Antonio Sanchez
Biography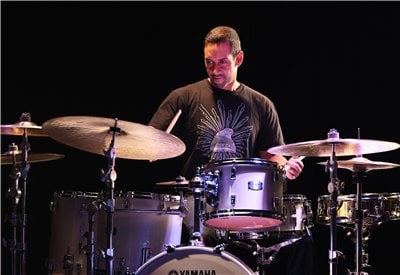 Four time Grammy Award winner Antonio Sanchez is considered by many cities and musicians alike as one of the most prominent drummers, bandleaders and composers of his generation.
Born in Mexico City on November 1st, 1971, he started playing drums at the age of 5 and began performing professionally early in his teens.
Antonio pursued a degree in classical piano at the National Conservatory in Mexico and in 1993 he moved to Boston to enroll at Berklee College of Music and New England Conservatory. He graduated Magna Cum Laude in Jazz Studies.
Since his move to New York in 1999, Antonio has become one of the most sought after drummers in the international jazz scene. His playing is featured in over a hundred albums and has performed and recorded with some of the biggest names in jazz including Chick Corea, Michael Brecker, Charlie Haden, Gary Burton and Toots Thielmans.
He has been the drummer of choice for 20 time Grammy winner Pat Metheny and has been part of virtually every project the famed guitarist has put together since 2000. They've recorded 8 albums together and 3 of them have been awarded the Grammy.
He regularly collaborates with some of the today's most prominent jazz musicians such as Joshua Redman, Chris Potter, John Patitucci, Danilo Perez, David Sanchez, Paquito D'Rivera, Kenny Werner, Marcus Roberts, Avishiai Cohen, Dee Dee Bridgewater, Dianne Reeves, Miguel Zenon, Scott Colley, Dave Samuels, Luciana Souza, Billy Childs, and Claudia Acuna just to name a few.
Antonio's continuous search as an artist has pushed him to compose and lead his own bands and ensembles. He has released 3 critically acclaimed albums under his name. His first one, "Migration" was called "one of the best new release of 2007" by All About Jazz and features a star studded cast which includes Pat Metheny, Chick Corea, Chris Potter, David Sanchez and Scott Colley. His second solo effort "Live in New York" was recorded during a 4 day run at the prestigious Jazz Standard in New York City and features saxophone greats David Sanchez and Miguel Zenon as well as bassist Scott Colley.
Antonio's 2013 album "New life" was made entirely of his own compositions and was widely received by critics all over the world. It was the winner of the prestigious German Echo Jazz Award in 2014. Downbeat Magazine said: "New Life is that rare combination of great composing, great players and great musicianship".
2015 will see the release of "Three Times Three", a double album which features three stellar trios: Brad Mehldau and Matt Brewer, John Scofield and Christian McBride and last but not at least Joe Lovano and John Patitucci.