Biography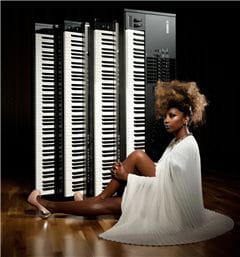 You can usually spot Keyboard Player, Producer and Songwriter Hannah Vasanth behind her boards on arena stages around the world.
Her background is colourful to say the least – she was born to South Indian parents, raised mainly in Berlin with a short stint in India, attended an American school before moving to London to complete her Bachelors in Jazz Performance at the prestigious Royal Academy of Music.
Hannah's upbringing reflects her varied career – she has toured and played for Rihanna ("Last Girl on Earth" Tour 2010), Anastacia ("Heavy Rotation" European Tour 2009), Nicola Roberts, The Sugababes, Jason Derulo, Jon Lord, Jay Sean, Taio Cruz, Daniel Merriweather, ABC, Will Young, David Jordan, Charlotte Church Bugz in the Attic and played in the House Band of Sky 1′s hit TV Show "Don't Forget the Lyrics" (2008) spanning 3 series.
As a producer, Hannah writes music for Radio and TV Adverts with campaigns such as Rexona, Rangerover, EDF, Barclays, etc under her belt.
On the road and in between tours Hannah keeps herself busy with her own productions. Recently she completed the album "City Girl" for the project Stereofixx featuring vocalist Jo Harrop.
2011 has seen her playing for award winning singer Jessie J. Currently Hannah is busy in the studio writing and producing her debut album which was released in 2012.
Hannah proudly endorses Yamaha Motif Synths.