STAGEPAS 1K mkII
Portable PA System
Compact yet powerful package
Despite its lightweight and compact cabinet construction, the STAGEPAS 1K mkII features a high-output 1100 W amplifier powering a high-frequency array speaker system with 10 x 1.5-inch drivers and a large 12-inch subwoofer, producing best-in-class sound pressure levels of up to 125 dB SPL. An impressive 170° horizontal and 30° vertical coverage delivers clear, high-quality sound consistently throughout a wide listening area.
J-curve slim line array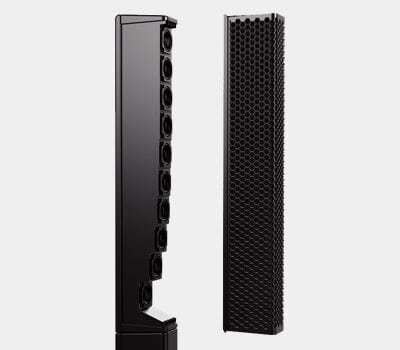 The high-frequency speaker array is comprised of 10 x 1.5-inch small diameter speakers. By adopting a J-curve array configuration, the high-frequency unit achieves coverage of 170° horizontal and 30° vertical. With such a long, 10-driver array design the STAEGEPAS 1K mkII can deliver clear, high quality sound consistently over longer distances from the front to the rear of the audience.
Class-leading 12-inch "compact" subwoofer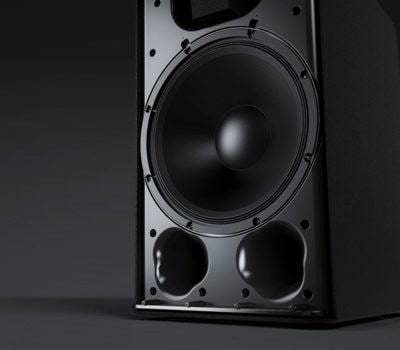 The subwoofer features a 12-inch speaker unit which is hardly "compact," and actually the largest in its class. Despite housing a 12-inch speaker unit that is the largest in its class, the STAGEPAS 1K mkII boasts the smallest cabinet on the market for a subwoofer of this size and power.
By incorporating Yamaha's own Twisted Flare Port™ technology to reduce port wind noise that can occur with compact bass-reflex subwoofers, the low-end output is maximized, producing very deep, powerful, distortion-free bass.
1100W amplifier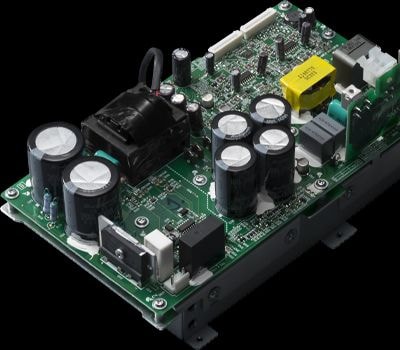 Also at the top of its class for output power, the 1100W Class-D amplifier module is capable of delivering an impressive 125 dB SPL from the deceptively compact speaker cabinet. And just as importantly, we've leveraged Yamaha's decades-long experience as a manufacturer of professional audio products, and innovator of related technologies to ensure that with great power comes great stability, and that the STAGEPAS 1K mkII maintains the same accurate, superior-quality sound even at high output.
Professional functionality with simple operation
Yamaha has been developing innovative digital mixers for professional engineers around the world for decades. the STAGEPAS 1K mkII's digital mixer incorporates that wealth of expertise, featuring an intuitive UI that makes it possible to dial in otherwise complex operations with a single knob, reducing setup time and streamlining system operation and allowing users to focus on their performance.
Digital mixer with versatile input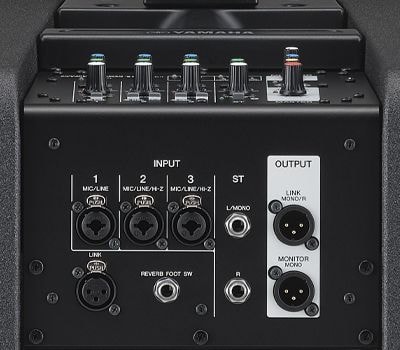 With outstanding flexibility for a PA system of this size, the 5-channel digital mixer features three channels of mono microphone/line inputs and stereo inputs, with two of the mono input channels equipped with Hi-Z connectivity for direct input of acoustic-electric guitars and other instruments. In addition to Phone and 1/8-inch mini jacks, the stereo connections support playback with Bluetooth devices as well as a wide range of input sources from instruments to CDs, PCs and smartphones.
Professional control with a single knob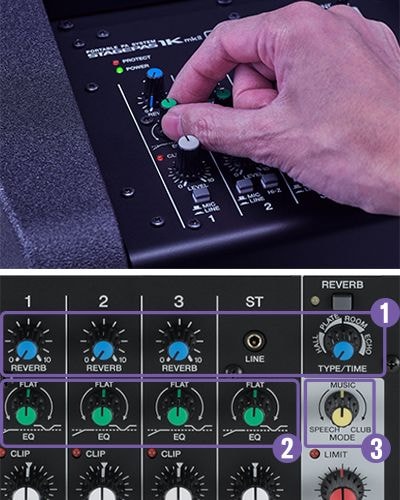 STAGEPAS 1K mkII comes equipped with a wealth of sound shaping functions, including 1-knob EQ for optimized multi band EQ setting, industry standard SPX reverb, and the "Mode" control for master output compression settings that match various applications such as "Speech" or "Music." Each of these functions can be set via a single knob, and have simplified many of the tough tasks like EQ and compression to get you great sound fast. In addition, the optional FC5 foot switch can also be used for on/off operation.
1. SPX the standard digital reverb
One knob operation gives you access to four types of Yamaha's proprietary SPX reverb settings—perfect for vocals and acoustic instruments. Simply turn the knob to change the reverb type and time, and then you're ready to apply just the right amount of high-resolution effect to each channel.
2. 1-knob channel EQ
Whether turning to the left to cut unnecessary low-end frequencies for speeches, or turning to the right to emphasize the bottom and high end for band performances, this innovative equalizer can dial in the perfect sound adjustment with a simple turn of the knob.
3. "MODE" for master output
The multiband compressor adjusts optimized compression settings to suit various applications. By selecting MUSIC, SPEECH or CLUB MODE which is closest to your application, you can add a more professional edge to your sound without having to learn difficult compression/audio engineering principles.
Priority Ducker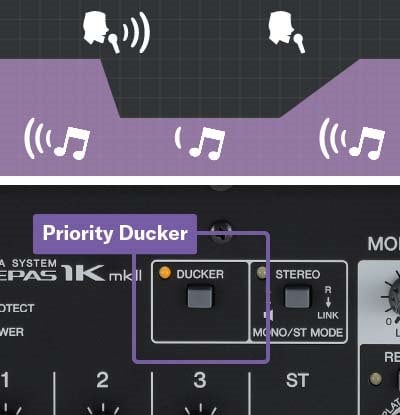 STAGEPAS 1K mkII features "Priority Ducker" function, which can be controlled from the STAGEPAS Controller application and also turned on/off directly from the device.
An invaluable feature for applications that require both public-speaking and background music, Priority Ducker allows a microphone to take priority over another sound source automatically, just by speaking into the mic. Stop talking and the other sound source is brought back to its original level, and thus no console operator is required for this simple yet valuable function. You can even adjust the ducker attenuation of the sound source to suit your preferences.
STAGEPAS Controller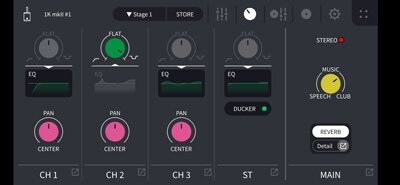 With an all-new interface, STAGEPAS Controller is a dedicated remote control application for the STAGEPAS 1K mkII that allows users to adjust volume and 1-knob EQ or 4-band PEQ via Bluetooth during rehearsal or performance. You can also save the adjusted settings for certain songs or applications in order to shorten your setup process in the future and maintain consistency from one performance to the next, and even control the volume of multiple STAGEPAS 1K mkII units from within the application.
Superior Utility and Portability
The STAGEPAS 1K mkII is an innovative all-in-one portable PA system that is not only capable of filling a wide area with highquality and uniform sound, but also lightweight and durable enough to be carried, and simple enough to set up in about one minute.
Simple setup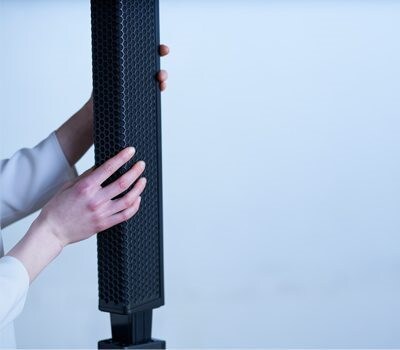 Simply affix the 2 spacers and speaker unit into the subwoofer and setup is essentially done, with no cables, speaker stand, or additional gear required beyond the main unit. All you need is in the package.
High-grade polyurea coating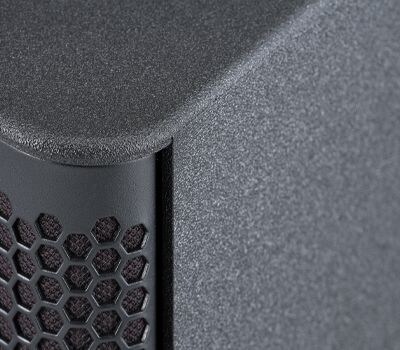 The lightweight ABS cabinet of subwoofer features a high-grade polyurea coating to prevent wear and tear during transport. It is light enough to make the system extremely portable, but also rugged and scratch-resistant enough to withstand harsh performance environments.
Expandable STAGEPAS systems
Linking two STAGEPAS 1K mkII or a STAGEPAS 1K mkII with a DXL1K provides greater coverage area and increased output power for large-scale performances. Both stereo and mono playbacks are supported, and when set to mono, the inputs of the two linked units(*) can still be used.
* 2x STAGEPAS 1K mkII: up to six mono inputs plus two stereo inputs
* A STAGEPAS 1K mkII and a DXL1K: up to five mono inputs plus one stereo input
Fitted cover included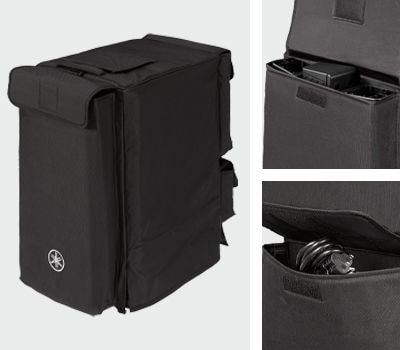 The STAGEPAS 1K mkII comes with its own cover which, in addition to protecting the unit, has pouches for both spacers and speaker array as well as additional storage for accessories to further streamline system setup and teardown.
DL-SP1K optional dolly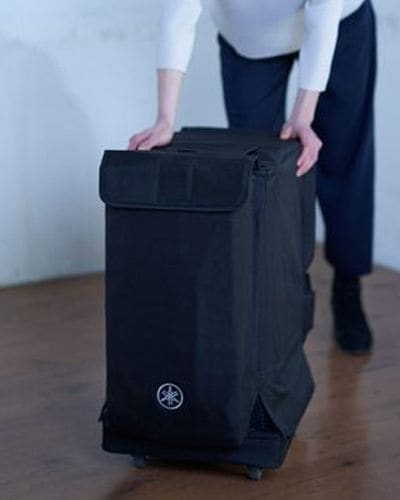 An optional dedicated dolly allows for more convenient transportation — particularly useful for performers transporting additional gears and instruments. Featuring a simple, sturdy mechanism that locks down the speaker cover, the lightweight dolly enables smooth, reliable transportation