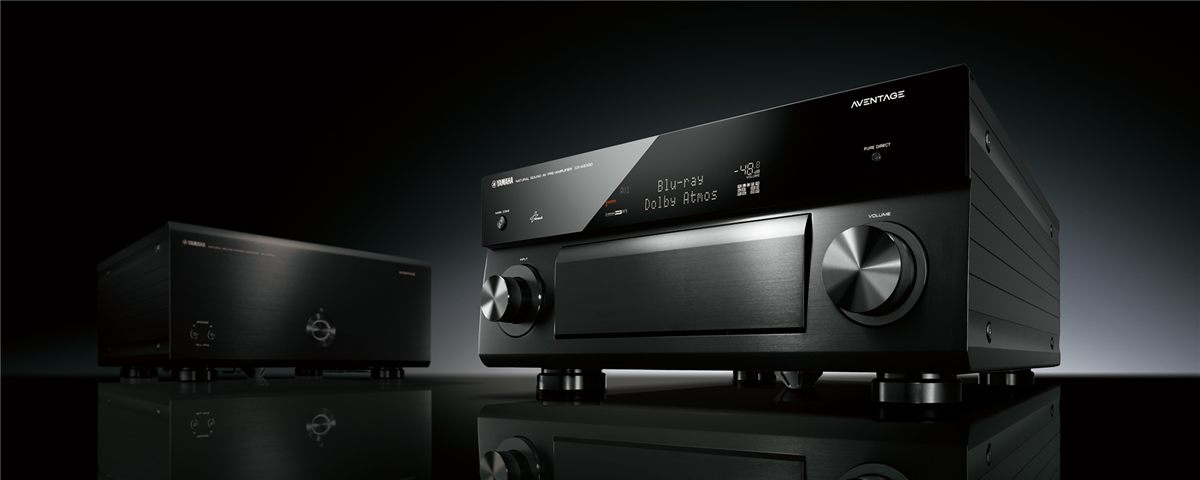 Support for the Latest Surround Format, DTS:X™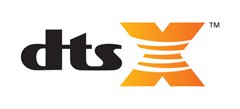 DTS:X™ is the next generation object-based, multi-dimensional audio technology from DTS.
Unbound from channels, DTS:X conveys the fluid movement of sound to create an incredibly rich, realistic and immersive soundscape - in front of, behind, beside and above the audience - more accurately than ever before. The combination of DTS:X and Yamaha AV receivers will fill the room with multidimensional sound that makes you feel as if you are right in the middle of the story unfolding on the screen.
*DTS:X™ playback capability will be available via future firmware update.
Support for the Latest Surround Format, Dolby Atmos®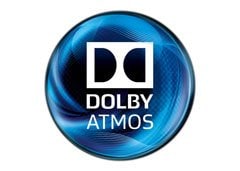 Enter a new world of sound with Dolby Atmos®. It transports you from an ordinary moment into an extraordinary experience with captivating, multidimensional sound that fills your room with amazing richness and depth. Music, people, and objects come alive in breathtaking detail and flow in precise choreography all around you, making you feel like you are truly there. The combination of Dolby Atmos and Yamaha AV receivers will fill the room with multidimensional sound that makes you feel as if you are right in the middle of the story unfolding on the screen. *Dolby Atmos playback will be available with a firmware update later this fall.
Speaker Layout Patterns Designed for Dolby Atmos Playback
Yamaha provide multiple placement patterns for presence speakers that support Dolby Atmos, creating a sound field that's ideal for your setup. Any layout can be appropriately reproduced, including the three-dimensional space of CINEMA DSP as well as Dolby Atmos.
Furthermore YPAO R.S.C. which optimises the listening environment and fundamental high quality audio design takes full advantage of the detailed spatial localisation capability of Dolby Atmos.
The combination of Dolby Atmos and Yamaha AV receivers will fill the room with multidimensional sound that makes you feel as if you are right in the middle of the story unfolding on the screen.

Featuring the absolute latest technology.The 11.2 channel preamp that brings you new dimensions in sound reproduction
The CX-A5100 is our flagship AV preamp, featuring the latest versions of 3D surround formats, advanced network functions such as WiFi and Bluetooth® compatibility, and full 4K support with HDCP2.2 compatible HDMI for the 4K era. In combination with the MX-A5000 power amplifier, you can enjoy not only a premier 3D sound field CINEMA DSP HD3 11.2channel full-spec reproduction but also new dimensions of surround sound as found in the newest movie theatres — in your own home.

True sense of realism produced by the next-generation CINEMA DSP HD3, compatible with all the latest formats
The CX-A5100 supports the latest surround sound playback formats such as Dolby Atmos and DTS:X. In addition to conventional channel-based audio, it is possible to create a 3D space in which separate acoustic elements can move freely, giving a sensation of the motion of "objects" above the viewer's head that fully realises the filmmaker's intentions. What's more, the revamped CINEMA DSP HD3 features newly developed signal processing algorithms to increase their appeal even further. With three sets of high performance processors for CINEMA DSP, it is possible to maximise the theatre sound effect, accurately reproducing a new dimension of realism for a sound field with a rich sense of presence unlike any system you've ever experienced. And by supplementing the limited number of speakers in a home system with CINEMA DSP to create the effect of a movie theatre space with alarge number of speakers, you can experience a realistic cinema sound field with the sense of truly being immersed in a movie scene.
33 DSP Programmes, Including 10 Introduced in the Flagship Z11 Receiver
The broad array of surround sound programmes, including 10 featured in the flagship Z11 receiver, features six Movie choices, including Spectacle for movies with strong visual and audio impact, Sci-Fi for SFX movies, Adventure to emphasise the sound of action movies, and Drama. Seven Entertainment programmes match the audio characteristics of sources such as sports, music videos, action games and roleplaying games. Compatibility with the Dolby Atmos and DTS:X sound formats means you hear the full potential of every movie and music source.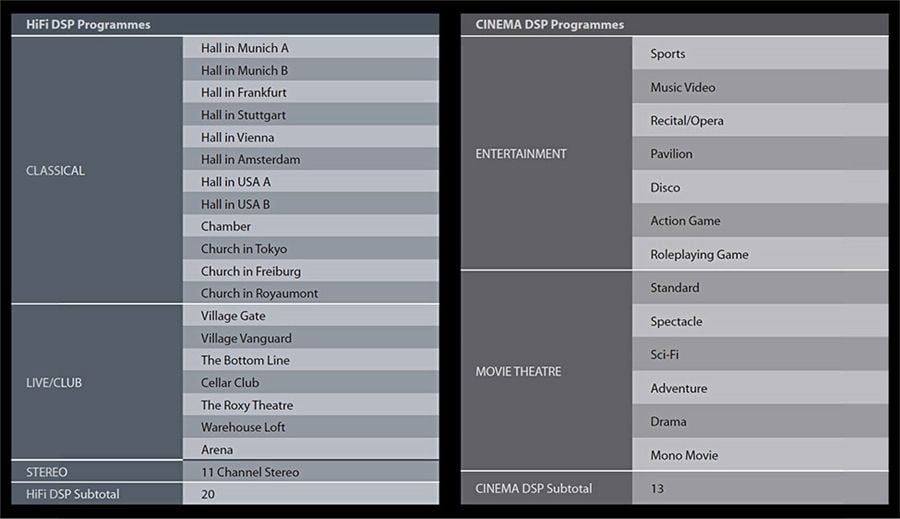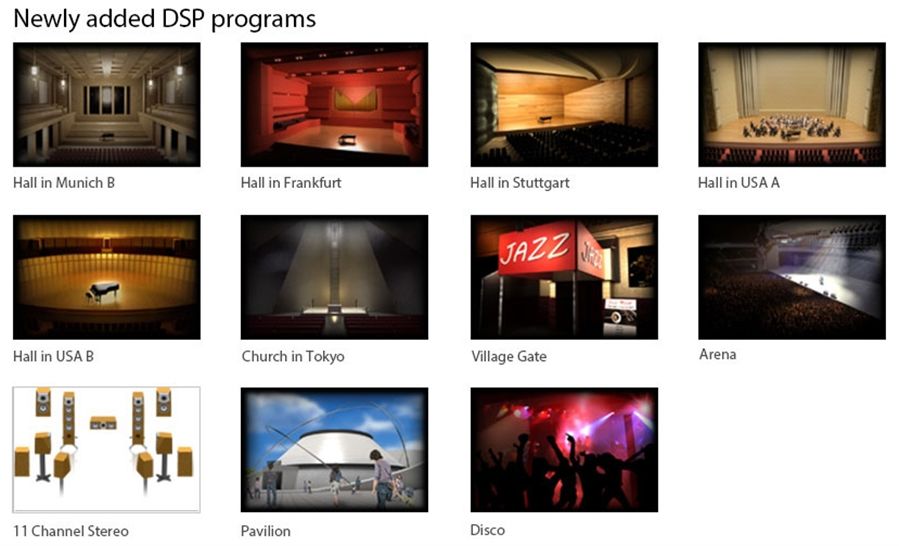 AVENTAGE AV Receivers: Designed to Deliver the Highest Levels of Audio Performance
The AVENTAGE line of high-performance AV receivers is based on the audio design concept of providing a massive, full-bodied sound for movie sound effects and the accurate reproduction of music sources. By expertly harmonising traditional and advanced technologies, every factor that affects sound quality, from materials and parts to construction, layout, vibration damping (unique foot) and "fine-tuning" the sound, is handled with no other thought than to achieve the best possible audio quality. As a result, every AVENTAGE model has the ability to reproduce the most subtle details of high-definition sound, so that listeners can enjoy a truly high-class sound studio experience at home.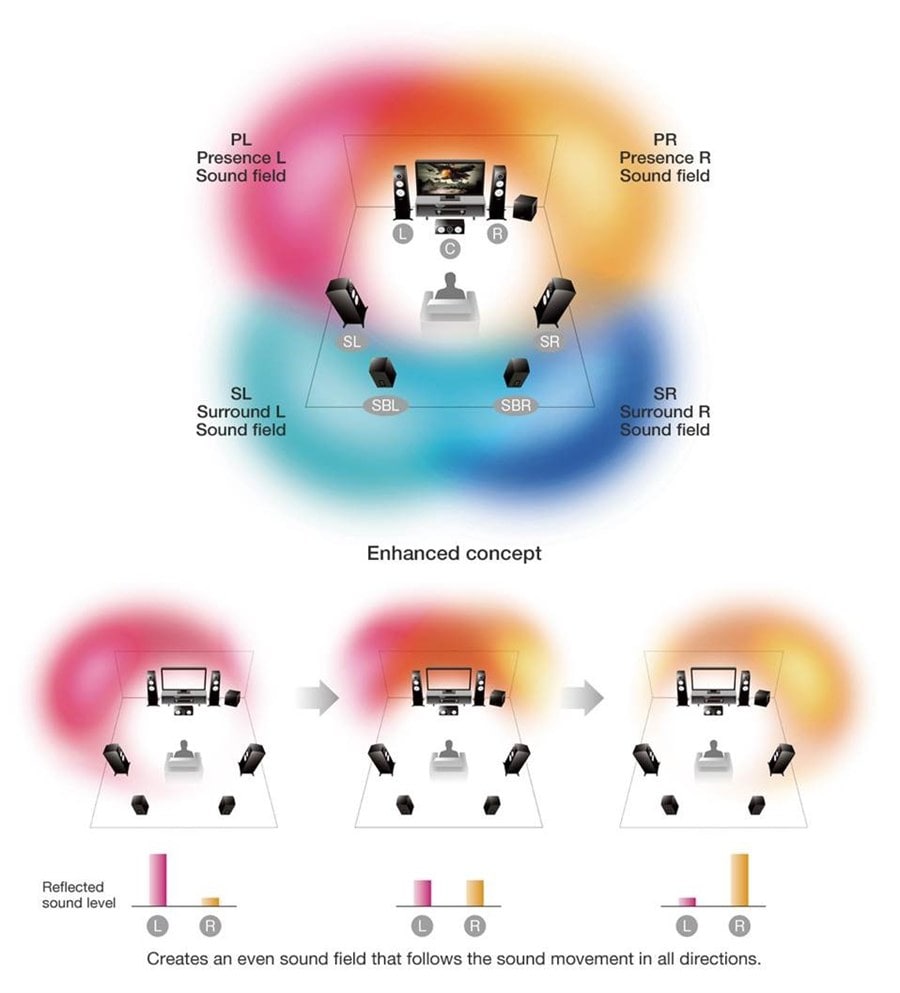 High density nærvær og rigt detaljeret lyd sikres ved høj lydkvalitets dele og design
All channels use ultra high performance ESS ES9016 DACs, which provide 192kHz/32-bit compatible superior SN ratio and dynamic range, ensuring faithful reproduction from Blu-ray and other players, as well as from high resolution sound sources input through networks. Matched to the design of the DAC circuit, which achieves stable ground potential (DAC on Pure Ground), they provide high precision D/A conversion. A new Volume IC realises low noise and superior sound orientation, and a superior low jitter clock circuit is used for clear and vivid network audio. In addition, the internal design separates the power supplies to the analogue circuit boards, eliminating high frequency noise interference from the digital circuits. The shielded power supplies restrict noise radiation and the large power transformer minimises vibration.

YPAO-R.S.C Sound Optimisation with High Precision 64-bit EQ Calculation and Speaker Angle Measurement
YPAO analyses room acoustics and performs speaker angle measurements, then calibrates audio parameters to achieve the best sound atany of several listening positions. The height of the presence speakers is also measured, to optimise the 3D sound field. R.S.C. (Reflected Sound Control) corrects early reflections for studio-quality sound. YPAO also uses 64-bit EQ Calculation for realising the most natural room acoustics possible.YPAO 3D provides automatic sound parameter optimisation that maximises the 3D sound field effectiveness of CINEMA DSPHD3 as well as Dolby Atmos.

AVENTAGE Av receivere: Designet for at opnå den højeste lydkvalitet
AVENTAGE seriens AV receivere er baseret på konceptet om at give en massiv, fyldig lyd til filmeffekter og en nøjagtig gengivelse af musikkilder. Ved at harmonisere og kombinere traditionelle og avancerede teknikker får vi de detaljer frem som HD-lydformat tilbyder. Hver faktor som kan påvirke lydkvaliteten er nøje testet og udvalgt med omsorg. Alt fra materiale og komponetvalg til konstruktion og vibrationsdæmpning, som giver den ""soundtuning"" som vi vil opnå. Resultater er AVANTAGE modeller som gengiver HD-lyd med detaljer og realisme så lytterne kan nyde en virkelig god lydoplevelse derhjemme.
Specielt designet hårdt chassis eliminerer virkningerne af vibrationer for en renere lyd
As part of the no-compromise design policy, Yamaha created an advanced chassis with strong rigidity. Chassis stiffness is enhanced by an H-shaped cross frame that boosts mechanical strength, by adopting aluminium side panels that increase the stiffness of the housing, and by a three-ply structure with independent top cover and side panels. Any external vibration from the rack or other sources is damped by heavy insulators. The A.R.T (Anti-Resonance Technology) Wedge in the centre of the bottom cover acts as an additional vibration countermeasure and firmly supports the internal circuits and delicate parts. In addition, this model has a double bottom chassis and rigid bottom frame to further enhance chassis rigidity and reduce the transmission of vibration produced by the large power supply and other internal components.

Noise Resistant, Highly Reliable Balanced Connections and High Quality XLR Terminals for Long Subwoofer Cables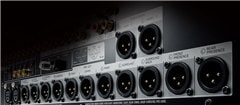 Electrical noise may be generated due to connection with other AV components and even to the connection between them, as well as from other sources of external noise. To ensure that the CX-A5100 is not affected by this distortion, it uses balanced connections that are highly noise resistant—the same type generally used in pro audio equipment. Even the RCA unbalanced connection uses a ground sensing transmission method that achieves simple balanced transmission. Even when each channel is used independently, the impact of noise flowing between the preamp and power amp is removed, minimising sound quality deterioration due to the connection. XLR terminals allow use of the long cables that may be needed to connect a subwoofer. The CX-A5100 also allows balanced audio input connection to high grade source components such as CD players.
Bluetooth-Trådøs musikstreaming
Dette hjemmebiograf receiver er udstyret med Bluetooth. Det giver dig en problemfri trådløs mulighed for musik overførsel fra f.eks. smartphone, tablet eller PC. Yamaha Compressed Music Enhancer er nu optimeret til Bluetooth audio. Det gør din musik spillet med mere dynamik og liv, end hvad man normalt hører fra komprimeret Bluetooth audio.

4K Ultra HD Full Support with 4K60p, HDCP2.2
Denne AV-receiver understøtter fuldt ud de nyeste HDMI® standarder. Med pass-through af 4K video i 60 billeder pr. sekund, kan du få den fulde oplevelse af kvaliteten i 4K video uden degradering. Receiveren følger også HDCP2.2 copyright beskyttelsesstandarden for 4K video overførsel, samt HDR (High Dynamic Range) video, som giver en forbedret billedkvalitet, ved at have større detaljegrad i både de mørkeste og de lyseste dele af billedet. Ydermere understøttes et større farveudvalg gennem BT.2020 pass-through.
Furthermore it supports wider color gamut of BT.2020 pass-thru.
*Firmware update is required to enable HDR, and Firmware update schedule is to be decided.

Support for 21:9 Aspect Ratio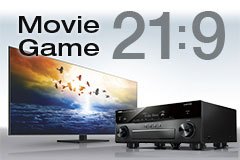 The 21:9 aspect ratio support is designed to show films recorded in the Cinema Scope format. When these films are viewed in the usual 16:9 ratio, you see black bars at the top and bottom of the screen; 21:9 eliminates these bars. By supporting 21:9 resolution, this model will be able to pass it through so that movies and games feel much more immersive.
*This feature is not supported with some PC monitors with specific IT specification design.
MusicCast
MusicCast er en ny revolution indenfor netværkslyd. Du kan bruge alle dine MusicCast-produkter sammen eller hver for sig - du bestemmer. Styr det hele fra én app, som er designet til at være hurtig og nem at bruge. Brug soundbars, trådløse højttalere, AV Receivere, Hifi-systemer - brug lige hvad der passer bedst til din situation. Sammensæt og udbyg dit MusicCast system efterhånden som tiden går. Yamahas MusicCast system gør alt tilgængeligt for alle, overalt.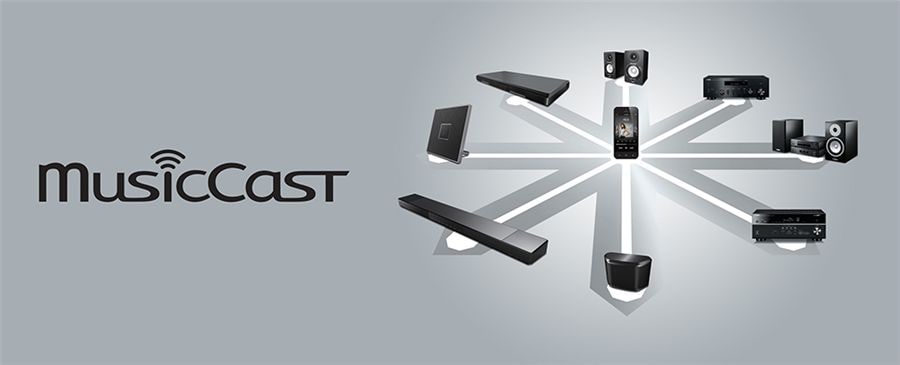 MusicCast udvider dine underholdningsmuligheder
MusicCast opretter et hurtigt netværk til at streame musik og anden lyd digitalt trådløst fra din smartphone, PC eller NAS til andre MusicCast-enheder i dit hjem. Du kan også dele musik fra eksterne enheder, såsom TV eller en Blu-ray™-afspiller forbundet til YSP-2700. Lydindhold fra BlueTooth®-tilsluttede smartphones eller tablets kan også streames MusicCast-enheder i flere rum

Bluetooth udgang for praktisk musikstreaming
YAS-306 er udstyret med den seneste Bluetooth-teknologi, som gør trådløs betjening nemmere end nogensinde før. Du kan stream'e musik fra YAS-306 til Bluetooth hovedtelefoner, hvis du vil lytte uden at blive forstyrret eller uden at forstyrre andre, eller til Bluetooth-højttalere.

Indbygget Wi-Fi og Wireless Direct kompatibel for enklere netværk
Indbygget Wi-Fi funktion giver mulighed for trådløs forbindelse med din husstands trådløse router og gør det lettere at nyde netværks lyd og musik streaming-tjenester. Hvis der ikke er en Wi-Fi-router tilgængelig, giver den unikke Wireless Direct funktion dig ikke kun mulighed for at streame musik direkte fra din smartphone eller tablet via AV Controller App Musik Play-funktionen, iOS AirPlay osv., men også styre din receiver ved hjælp af AV Controller app.

High-resolution Music Enhancer øger musikalitet yderligere fra det oprindelige indhold

Hi-bit high-sampling udvidelse op til 96 kHz / 24-bit kan anvendes til 44.1/48 kHz musikdata, som bl.a bruges af CD'er eller FLAC filer.
Netværksfunktioner
Denne AV receiver har en række netværksfunktioner, som giver dig adgang til flere kilder og gør betjeningen bedre. Du kan tilslutte receiveren dit hjemmenetværk eller Internettet og lytte til Internet Radio, Spotify®*, Pandora®*, JUKE eller musik der ligger på din NAS eller PC. AV Controller-app'en (fra iTunes Store eller Google Play) giver dig mulighed for at betjene forskellige funktioner fra din iPod, iPhone, iPad eller Android telefon eller tablet. *Udvalget af musikservices variérer afhængig af region.
*Musiktjenesten varierer fra region til region.

AV-Controller App för enkel och bekväm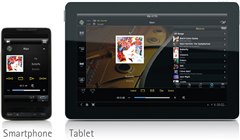 Med denne AV receiver kan du bruge Yamahas AV Controller-app, som kan hentes fra iTunes App Store eller Google Play. Med den kan du tænde og slukke, styre volumen, vælge input og DSP-modes samt betjene andre funktioner fra din iPhone eller Android-enhed. Den kan anvendes på op til 23* forskellige sprog og brugerfladen kan indstilles som du ønsker ved at gemme ubrugte ikoner og omdøbe funktioner. App'en fås også i en tablet-udgave. * Pr. forår 2014
Den fås også som en "tablet" version.
DSP parameterjustering - både nemt og detaljeret
Denne AV-receiver er udstyret med en bred vifte af lydprogrammer, der udnytter Yamahas originale DSP-teknologi. De gør det nemt at skabe lydfelter som i biografer eller koncertsale og gør at du kan nyde de naturlige stereoskopiske lydfelter hjemme hos dig selv. Nu kan du bruge AV Controller app til at justere DSP parametre til din præference for at matche den type musik / film eller den stemning, du ønsker at opnå. Der er to indstillinger: Basic og Advanced, som du kan vælge efter typen af justeringer, du ønsker at gøre.

AV Controller App Provides Zone Control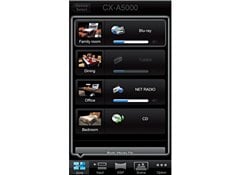 The AV Controller app is extremely useful for controlling various functions in multi-zone installations. Zone selection is easily done by choosing zone icons, which can be changed (bedroom, kitchen, etc.). You can control power on/off, input selection and the volume level in each zone, and also rename the zones. The app also shows when the Party mode is being used, and allows volume control of the Party function.
AirPlay tillader streaming af musik til receiveren
Det er meget simpelt og nemt at styre receiveren med Yamaha AV Controller app, der kan hentes gratis fra iTunes App Store eller Goggle Play. Appen kan styre on/of, lydstyrke, indgangskilde DSP programmer og betjene andre funktioner fra en iPod, iPhone, iPad eller Android-telefon. Du kan få appen på dansk, skjule de input, der ikke anvendes, omdøbe zoner, betjene din Yamaha bluray mm. Den fås også som en ""tablet"" version.
* Visse modeller viser ikke album
Stream millioner af sange med Spotify Connect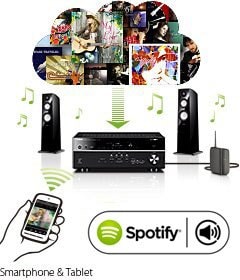 With the Spotify app on your smartphone, you've got instant access to millions of songs. And now you can stream those songs to your Yamaha system by using Spotify Connect. Just hit play to start streaming music. What's more, when you've been listening on your smartphone outside and come inside, the song immediately streams to your AVR—like magic, you enjoy uninterrupted music. You can also personalise playlists and receive phone calls while listening to music.
*The Spotify app and premium account are required. Visit spotify.com for more details.
Try Spotify Premium for free on your Yamaha Home Entertainment System for 30 days.
http://spotify.com/yamaha
*Spotify service availability depends on regions.
USB-indgang på frontpanel for digital tilslutning af iPhone og iPod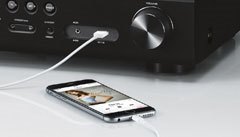 En USB-port på frontpanelet er praktisk når du skal tilslutte en iPod / iPhone, som iøvrigt også oplader når den er tilsluttet. Fordi det digitale signal fra din iPod / iPhone sendes direkte til AV-receiveren, er der hverken signaltab eller forstyrrelser, så du kan nyde den bedst mulige lydkvalitet. Derudover kan du bruge receiverens fjernbetjening til at betjene iPod / iPhone musikafspilningsfunktioner.
Gapless afspilningskompatibilitet tillader afspilning uden afbrydelse *
Many live and classical albums have no gaps in the music. Gapless playback ensures that there are no pauses between audio files. This provides playback with no interruptions, the way it was meant to be heard.
* Kompatibel med WAV, FLAC og ALAC filformater og input fra USB / PC / NAS.

AV Setup Guide App for nem installation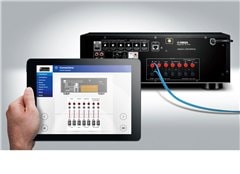 AAV Setup Guide er en app, der gør det meget lettere at komme i gang og installere din receiver. Ved hjælp af denne app, guider vi dig igennem de forskellige trin. Du kan få hjælp til alt fra hvor kablerne skal sidde til mere avancerede indstillinger. Hvordan kobler jeg receiveren til mit tv og andre produkter i hjemmet? Illustrationer og klare billeder forklarer og hjælper dig med at forstå. Vejledningen er tilgængelig på skandinavisk og er designet til iOS og Android tablets
Yamaha videobehandling optimerer billedkvaliteten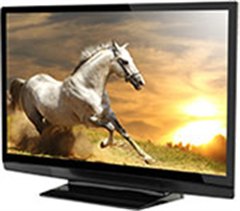 Yamahas ingeniørarbejde ekspertise inden for billedet projektion, som tidligere blev brugt i high-end projektorer, er nu på plads i denne receiver. En række avancerede forarbejdningsmetoder er blevet anvendt får at du skal få et skarpt billede. Et eksempel er Adaptive deinterlacing som udjævner ujævne linjer, der ser ""flossede"" ud af støj. Billede chip registrerer, om det er i bevægelse eller stillbilleder for at gøre en nøjagtig pixel-for-pixel-behandling. Med den rette behandling, får du uanset hvilken videokilde eller indhold, en bedre billedkvalitet med Yamahas egen billedbehandling.
Avanceret grafisk on-screen display på flere sprog
Yamaha's nyeste Graphical User interface har en høj opløsning med klare, tydlige ikoner. Det er let at sætte sig ind i og enkelt at betjene Det findes et statusfelt som viser indgangskilde, DSP, lydstyrke og lydformat. GUI kan vises på følgende sprog: engelsk, fransk, tysk, japansk, russisk, spansk, italiensk og kinesis. Både normale og 3D billeder vises.

Ekstra bekvemt med SCENE PLUS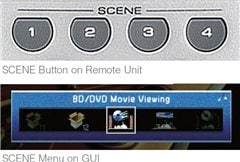 SCENE PLUS funktionen forenkler betjeningen ved et tryk på power-on sammen med valgt kilde og relevante DSP programmer. SCENE PLUS tilbyder 12 scenevalg, hvoraf fire kan tildeles den anden zone i en multi-zone system. SCENE PLUS kan vælges fra frontpanelet, fjernbetjeningen, GUI eller fra AV Controller app.
YPAO Volume for at sikre naturlig lyd selv ved lav lydstyrke

Menneskelige øre har mindre følsomhed over for høje og lave frekvenser, især ved lavere volume. YPAO Volume anvender loudness EQ korrektion for automatisk at justere høje og lave frekvens niveauer som ændringer volumen. Når du bruger YPAO's måleresultater, er EQ korrekt optimeret til dine systemindstillinger og lytte miljø.
Virtual Presence Speaker og Virtual Surround Back Speaker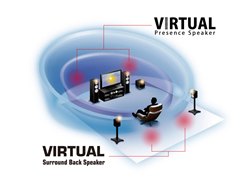 Virtual Presence Speaker funktionen gør fuld brug af center- og surroundhøjttalerne for at skabe virtuelle tilstedeværelse højttalere. Nyd CINEMA DSP 3Dsurroundlyd selv i miljøer, hvor installation af højttaler er begrænset. Denne model er også udstyret med en Virtual Surround Back Speaker funktion. Selv uden brug af surround back højttalere, kan du opleve mere naturlig lyd som kommer bagfra.
Virtual CINEMA FRONT giver virtuelt 7-kanals surroundlyd med høj kvalitet og opløsning
Når det er umuligt at installere surroundhøjttalerne bag lyttepositionen, kan Virtual CINEMA DSP gengive virtuelt 7-kanals surroundlyd fyldt med realisme, med kun to fronthøjttalere. Virtual CINEMA FRONT funktionen kan du placere to surroundhøjttalere og en centerhøjttaler på fronten for at nyde virtuel 7-kanals surroundlyd med endnu højere kvalitet og opløsning, samt overlegen bageste virtuel lydlokalisering. Hvis du tilføjer to ekstra front presence-højttalere giver det et tre-dimensionel lyd felt, der giver dig en følelse af højde og dybde og af den lodrette bevægelse af lyden. Du får mere fleksibilitet til at arrangere dine højttalere inde i stuen, samtidig med at det bliver nemmere at nyde surroundlyd af høj kvalitet.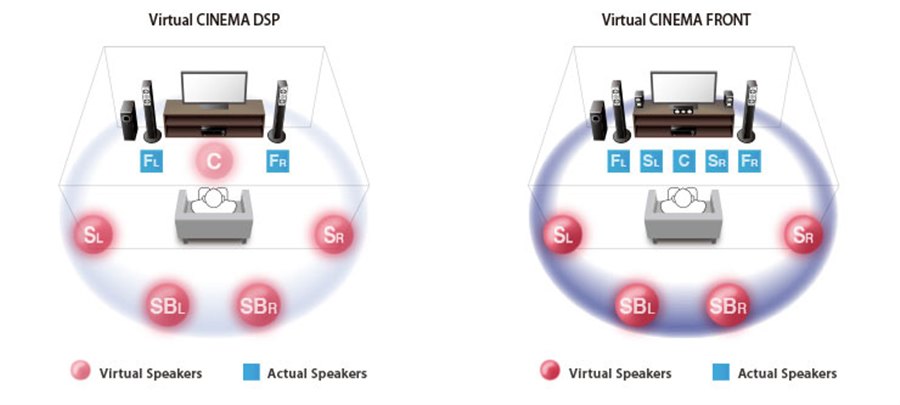 Compressed Music Enhancer

Yamahas senaste grafiska användargränssnitt har en hög upplösning med tydliga ikoner vilket gör det enkelt att använda menyer och innehåll. Du kan även få upp ett statusfält som visar ingång, volym, DSP-läge och ljudformat. Det grafiska gränssnittet finns på sex språk: engelska, franska, tyska, japanska, ryska och spanska, och kan visas över både normal-och 3D-bilder.
HDMI Zone Switching tillader forskellige HD Audio / Videokilde afspilning i forskellige rum
Standard HDMI zone switch kan kun sende HD-video til ""Main Zone"" eller zone 2. Med Yamahas avancerede HDMI Switching Zone, kan du vælge alle lyd-og videokilder som er tilsluttet, og afspille den i det rum, du ønsker. En grafisk on-screen brugerinterface gør det nemt at bladre og vælge indhold fra zone 2, uanset hvad der afspilles i det primære rum (main zone).

Praktisk trigger control
The CX-A5100 provides two Trigger Out jacks that enable control of connected component functions such as power on/off and input selection. The MX-A5000 or another amplifier or subwoofer with a Trigger In jack can be connected to allow use of the convenient Trigger function.