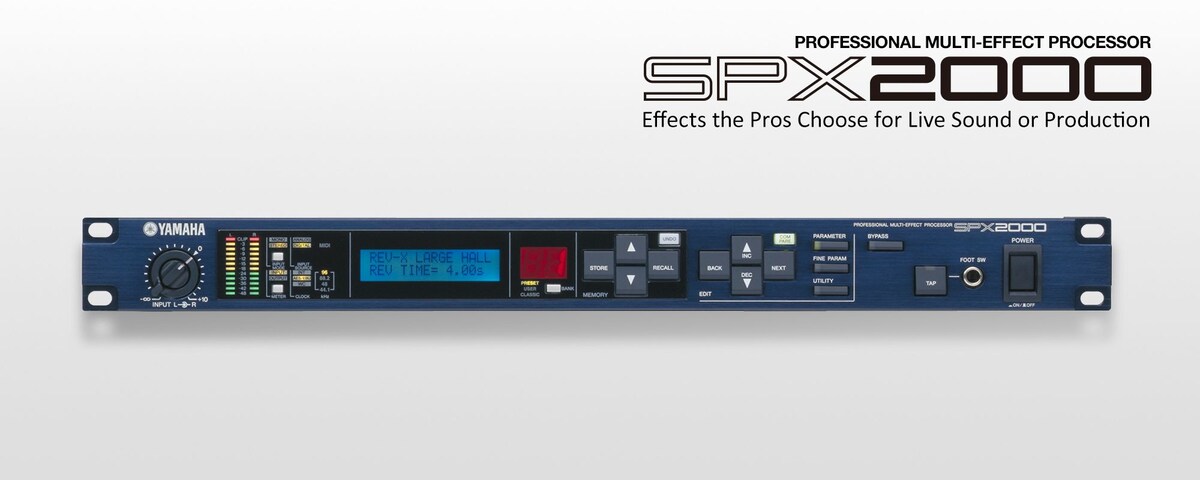 SPX2000
Professional Multi-Effect Processor
New-generation SPX with 24-bit 96-kHz Processing and Advanced REV-X Reverb Algorithms
For more than 15 years the letters "SPX" have been synonymous with professional multi-effect processors, and over that time you would almost always find an SPX90, SPX90II, SPX900, SPX1000 or SPX990 in any well-equipped studio or live-sound rack. The SPX2000, while inheriting the standard interface and popular programs from its predecessors, brings a new dimension to the SPX sound with advanced REV-X reverb algorithms and 24-bit, 96k-Hz audio processing. It also offers an innovative user interface with features such as five assignable LCD backlight colors, operation lock modes, and computer-based editing. The SPX2000 is a new-generation multi-effect processor that delivers performance that is a perfect match for Yamaha's DM series Digital Production Consoles, and is suitable for applications from live sound to production studios.
SPX2000
Professional Multi-Effect Processor
The pinnacle of Yamaha's acclaimed SPX multi-effect processor range includes the unmatched Rev-X reverb algorithm and a "Classic Bank" with recreations of valued classic effects.
De viste farver og nuancer kan variere i forhold til det færdige produkt.