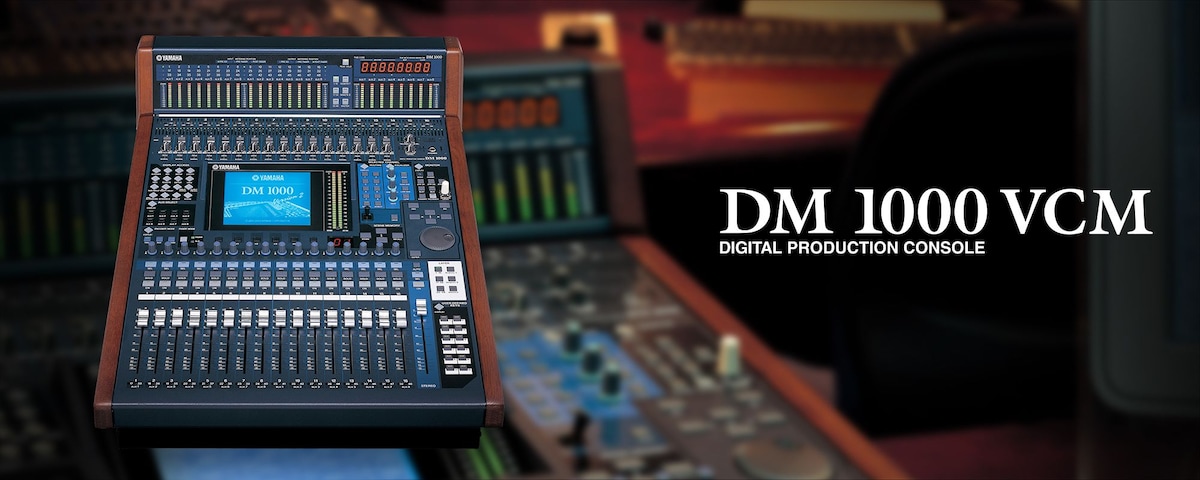 DM1000VCM
Digital Production Console
19-inch Digital Production Console for Professionals in the Studio or On the Road
When the acclaimed Yamaha DM2000 console appeared on the production scene, it proved that true 24-bit/96 kHz performance, DAW integration, and surround production facilities were what the industry had been waiting for. With the introduction of the 02R96 the same benefits became available to a broader range of engineers and facilities, including project studios for music production. Now the Yamaha DM1000, like the DM2000, is designed especially for commercial post-production, audio for video, and broadcast applications. But extraordinary versatility and configurability mean that the DM1000 is also ideal for a wide range of sound reinforcement applications.The DM1000 Digital Production Console distills the essence of the DM2000 into a remarkably compact console that delivers the same level of performance and key features. And with the supplied Studio Manager Application software, all mix data is interchangeable between the DM2000, DM1000 and 02R96. These consoles can be linked and cascaded interactively within a multi-room studio, or a tour engineer can do a basic console setup on his laptop computer anywhere, and then simply load the settings into the console at the venue.Like its predecessor, the DM1000 delivers mixing power and performance that's way ahead of anything else on the market, and it even incorporates newly introduced software features such as 6.1 Surround, User Assignable Layer, and Global Recall Safe. Never has so much mixing power and versatility been available in a compact, rack-mountable console.With the introduction of Version 2, the DM1000 evolves to an even higher level of refinement.
DM1000VCM

Digital Production Console Udgået
Offering the mixing functionality of the DM2000 in a compact, rack-mountable body, the DM1000VCM digital mixer provides robust support for the production, broadcast, and live-sound, and now comes with VCM and other plug-in effects as standard.
De viste farver og nuancer kan variere i forhold til det færdige produkt.