Biography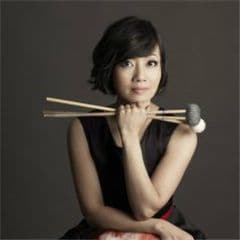 Tsuey-Ying Tai studied percussion with professors Ya-Wen Lien, Tzang-Ching Ju and Sarah Tsai at the Chung-Cheng Senior High School, then at the Taiwan National Art Institut where she won the First Prize in the "Kuan-Du Festival Competition".
She comes to France in 1996, continuing to practice with Sylvia Gualda at the Conservatoire National de la Région de Versailles. After receiving the First Prize for percussion performance, she was admitted to the Paris Conservatoire (CRR de Paris) where she studied with Professors Frédéric MACARE and Éric SAMMUT.
In 2001 she wins the Yamaha Scholarship and distinguishes herself brilliantly in important International Competitions. In 2000, she was finalist at ARD International Music Competition In 2001, she won the scholarship of the Music Foundation, Europe In 2002, she won the First Prize of 3rd World Marimba Competition in Stuttgart In 2003, she received an award for her performance in the "Young Stars Concerts Series" at the Taiwan Theater Concert Hall In 2003 also, she joined the Taiwan National Symphonic Orchestra as 2nd timpanist and percussion player.
She also performed at the invitation of the International Watch Co.IWC in Taipei, and at the request of the Group LVMH she joined a concert tour in New York, Paris, Florence, Manchester, Shanghai and Hong Kong. In recent years she has been invited as a member of the jury for PAS Paris Percussion Competition, Taipei International Marimba Competition and PAS Greece Percussion Competition.
Tsuey-Ying Tai is currently 1st Percussionist Solo at the National Paris Opera.