Biography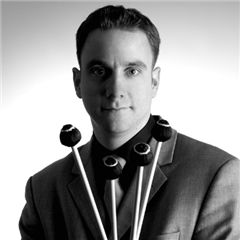 Joerg Fabig was born in Frankfurt/Main on 13th of April 1972. After school he started his studies of mathematics and physics at the University of Frankfurt/Main. Later he studied music at the Johannes-Gutenberg-University at Mainz with Walter Reiter and Juergen Friedel, finishing as a Diplom Musiklehrer (Music Instructor).
Joerg Fabig played several big german musical theatre productions ("Les Misérables", "Joseph and his amazing technicolor dreamcoat", "Disney´s Beauty and the beast"), worked as symphonic orchestra timpani player, chamber musician (Mutare Ensemble Frankfurt) and took part as soloist and orchestra musician in many productions of contemporary church music.
He was teaching at several music schools, his students and especially percussion ensembles took part in competitions like "Jugend musiziert" very succesfully. He now works at the Staedtische Musikschule Aschaffenburg and the Robert Schumann Hochschule Duesseldorf as percussion instructor.
Since march 2008 Joerg is also vicepresident of Percussion Creativ e.V., wich is the most important organization of german tongue percussionists.