Biography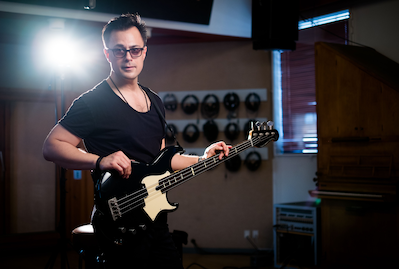 In a world obsessed with bottom lines, Chris Minh Doky has created bottom lines that have perked the ears of jazz fans around the world. For more than two decades he has been recognized as an original master of the bass, both upright and electric. Technical brilliance delivered with personal passion prompted DownBeat magazine to write: " ... there is a softness and crisp clarity that is very different from the sound others derive from the acoustic instrument." Though written several years ago, those words remain valid today, as you will hear on Doky's most recent album New Nordic Jazz.
Doky's rare ability to perform with ample portions of creativity and dynamism--either as a solo artist or sideman--consistently place him in the top-5 lists of reader polls around the world. Carrying on the Danish tradition of spotlighting the bass as the lead instrument, his distinctive styling of each note reflects his roots in American East Coast grooves seasoned with the lyrical traditions of Scandinavia.
When Doky was 16, his epiphany came after listening to Miles Davis' My Funny Valentine. He switched over to his signature instrument, the bass, and was soon courted to play in Copenhagen jazz clubs he wasn't even old enough to get in to. Yearning to be closer to the root of the music he loved, Doky headed to New York shortly after his 18th birthday. He quickly landed studio and club gigs with other up-and-coming musicians around Manhattan.
His bass earned him a reputation as an excellent sideman and an innovative soloists in the Big Apple. The big break came when Mike Stern invited Doky to join his band in 1991. The word spread from New York to the greater world of jazz and soon Doky found himself playing with great musicians he'd listened to in the early years: Michael Brecker, David Sanborn, Ryuichi Sakamoto, Mike Stern, Michele Camilo, Trilok Gurtu, Bireli Lagrene, Brecker Brothers, John Scofield, Kenny Garret, Randy Brecker, and more.
Andre strengeinstrument-artister