Din daglige dosis af glæde.
Kommer ind i dit liv så naturligt som en blid brise.Her har du musikken lige ved hånden, hvilket gør alle dage mere behagelige.
Flot design og og god lydkvalitet som giver hverdagen et løft.
Spil musik fra forskellige kilder— CD, iPod/iPhone, iPad (via USB), USB, radio og Aux-in.
Stort ur i displayet og IntelliAlarm tilføjer bekvemmelighed.
DTA Controller"" app for ekstra komfort.
Bluetooth® kompatibilitet for smartphone.
Compatible with iPhone 5
Praktisk og smart
Lyt til dine yndlingssange, se hvad klokken er, vågn op til musik —dette vil være en praktisk tilføjelse til dit værelse. Designet er flot: en afrundet form og ægte træ på toppanelet ( fladt, så man kan lægge mindre ting på). Du vil opdage, at den kommer til at passe naturligt ind i din boligindretning.

Nyd musik fra forskellige kilder med høj lydkvalitet.

Alle dine favorit musikkilder tilgængelig i en enhed. Dock din iPod eller iPhone og nyd en høj lydkvalitet takket være den digitale tilslutning. Med USB-porten kan du tilslutte en iPad eller USB-enhed. Du kan også vælge FM radio eller at lytte på CD. Music Enhancer funktionen forbedrer kvaliteten af komprimerede lydkilder og et tre-bånds EQ gør, at du kan justere lyden så den passer just dig.
Supported iPod/iPhone/iPad
iPhone 5, iPhone 4S, iPhone 4, iPhone 3GS, iPhone 3G, iPhone, iPad (3rd and 4th generation), iPad 2, iPad, iPad mini, iPod touch (1st through 5th generation), and iPod nano (2nd through 7th generation)
*Supports via USB cable for Lightning Connector models.
Et godt supplement til dit daglige liv.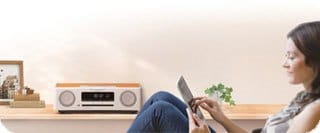 Denne afspiller er ikke kun stilfuld, den har også funktioner som er nyttige og lette at bruge.
You'll like the large clock display, the slot-in type CD player and the handy interface for engaging each function with just one touch. It also has IntelliAlarm, which gently awakens you by controlling the volume and frequency of your desired source.
Great Convenience: Bluetooth® and DTA Controller App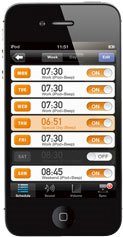 Bluetooth® compatibility means you can enjoy music wirelessly from your smartphone.
Bluetooth® compatibility means you can enjoy music wirelessly from your smartphone. Put your system wherever you want it, and use your smartphone as you usually do to operate the playback functions. In addition, the iPhone/iPod/iPad specialised app ""DTA Controller"" lets you set the alarm time differently for each day of the week, as well as make detailed IntelliAlarm settings and transmit them wirelessly. The app will be periodically updated for additional functionality. *System requirements; iOS4.3 or higher
*System requirements; iOS4.3 / Android2.3.3 or higher
De viste farver og nuancer kan variere i forhold til det færdige produkt.